Covid 19 - All Green Mouse staff are fully vaccinated. Please call in advance of your visit as we are running a skeleton office crew to minimise potential disruption to service. Visitors to our office must wear a mask and scan in. Vaccine Certificates required for site visits but not drop-offs to the office. Remote assistance is preferred and perfectly workable in most cases: Download Teamviewer for remote support.
Local Computer Repairs and Sales
At Green Mouse you'll find a friendly, experienced and reliable team that delivers, answers your questions and provides the right solutions for you.
Looking for expertly performed computer repairs?
Looking for a new computer, laptop, monitor or other device?
When computer problems arise, you can rely on Green Mouse. You'll be supported at your home or business. Have total peace of mind knowing that Green Mouse will get you and your computer back in sync quick smart.

No jargon, no surprises; just prompt and friendly service.

We're here to help. And we're local, just like you.

Come visit us at 24B Dick Street, Cambridge (down the driveway beside The Smile Centre).
We have plenty of parking for easy drop-off and pick-up.

Skilled Team
We are proud to boast that we have one of the most experienced teams in our industry - with a wide range of skill sets.
Solution Led
Our first question is always - what do you need your computer equipment to do? We tailor our solutions to your needs.
Extensive Service List
We do more than computer repairs and hardware sales. We offer support, training and advice for individuals and businesses.
Affordable Rates
We are very competitive when it comes to pricing. We also offer a 20% discount off labour to all Super Gold Card holders.
People Focused
Not everyone is a computer whiz. We take the time to make sure our clients know what's going on with their computer.
Fast Turnaround
We know how inconvenient it can be to be without your computer. We endeavor to ensure the least possible downtime.
What we do best
At Green Mouse we're the clever computing experts. Tell us what you need for your home or business - we're here to help.
Cloud Solutions for Business
Get your business into the Cloud for brilliant access, collaboration and security.
Microsoft 365
SharePoint
AvePoint Backup
Cloud Server
Xero
MYOB Essentials
MYOB Account Right Live
SmartPayroll
Hardware & Software
PCs, Laptops & NUCs
Keyboards, Mice & Speakers
Microsoft 365
ESET AntiVirus
Printers, Ink & Toners
External Hard Drives & Backup Solutions
Monitors & Webcams
Uninterruptible Power Supply Units
Routers & Network Equipment
Repairs & Upgrades
Data Transfer
Virus Removal
Performance Upgrades
Troubleshooting
Software Installation
Data Backup & Recovery
Email Configuration
Laptop Screen Replacements
Replacement Laptop Batteries & Power Adaptors
Quality computer repairs, hardware sales, and software sales and management, provided by a clever computing team
June 29, 2022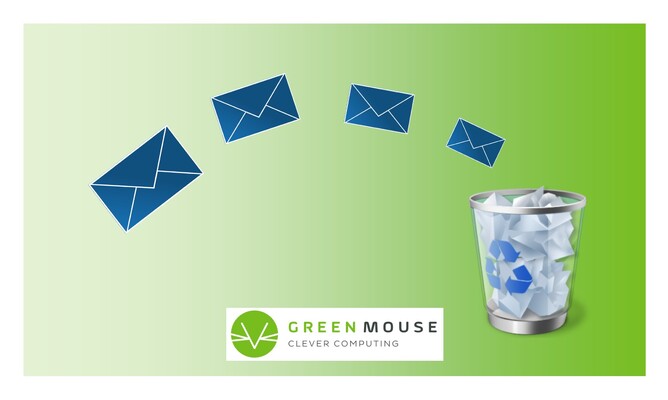 We've had a few instances recently where customers have asked us why the emails they thought they were keeping safe in the Deleted folder have been disappearing. And the reason is that the Deleted folder is not a folder, despite looking like one. It's more like an email graveyard, or maybe email pur...
read more
Looking for a computer company offering excellent service?